Rental Computer
[Computer Rental Fee] 800 yen/night

Each hotel takes advance reservations for the rental PCs by phone. We have a limited number of PCs. Please note that all PCs may already be taken.

*When using a rental PC, please show your ID at the front desk.
*For security reasons, if you turn off the PC, all the stored data will be deleted.

Application Software: Microsoft Excel, Microsoft Word, and Microsoft PowerPoint
*Some hotels use compatible software.
Public Computer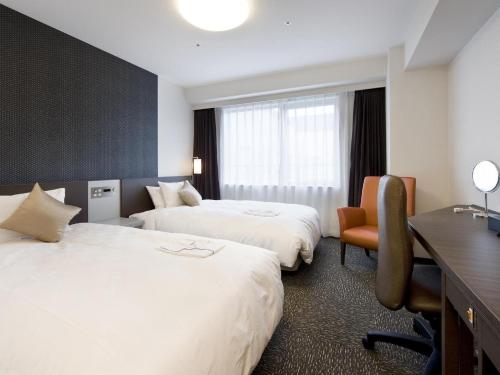 We have a computer available for our hotel guests in the lobby. It is also equipped with an inkjet printer that can print out papers up to the A4 size. By connecting your USB flash drive to the computer, you can print out documents (paid service: 50 yen/page).

Although the number of public computer is limited, we have rental computers for our hotel guests (800 yen/night).
Security System
In order to ensure safety within the hotel building late at night, the main entrance will be locked from 12:00 a.m. - 6:00 a.m.

When entering our hotel after 12:00 a.m.,
-Our hotel guests can unlock the door with their room keys.
-If you check in, you will enter our hotel after confirming the name under which a reservation was made through the intercom installed outside of the main entrance.

*In some of our hotels, we introduce a security system in elevator cars that can be operated with a card key. You will need a key to go up to the guest room floors.
Vending Machine
Alcoholic beverages, such as beer and chuhai (shochu highball), and non-alcoholic beverages are available. You can purchase drinks without going out of the hotel. All drinks are sold at regular retail prices. (There is a refrigerator in the guest rooms)

Open 24 hours
Coin-Operated Laundry
We have a self-service coin-operated laundry room.
Please use the laundry when you need to wash clothes during your trip and extended stay, such as business trips sports training camps, etc.

[Hours] 24 hours
[Detergent] No detergents needed as it automatically pours the detergent.

?Precautions
- Persons other than our hotel guests cannot use the laundry.
- Washers and dryers accept only 100-yen coins. Please prepare 100-yen coins before using it.
- For change (100-yen coins), please use the change machine in the lobby.
- Please use the coin-operated laundry by yourself.
- Please take care of your laundry by yourself.
- Please promptly take out your laundry after using a washer/dryer.
- We cannot be responsible for lost and mixed up laundry.
Ice Machine
An ice machine is installed in the vending machine section. Please use the cups placed on the side of the ice machine. [Free]